Tax Planning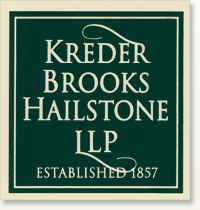 Scranton Tax Planning Attorney
The tax lawyers at Kreder Brooks Hailstone LLP in Scranton, Pennsylvania, represent individuals and businesses in the complex and constantly changing area of tax planning. Our goal is to reduce the impact of taxation upon clients' wealth and assets.
As a full-service firm, our tax lawyers work with attorneys from our business law, estate planning and non-profit organizations practices to ensure that our clients receive the maximum benefits available under the law.
Our tax lawyers are skilled litigators and are well-prepared to represent clients before the Internal Revenue Service, the Pennsylvania Department of Revenue, the Pennsylvania Common Pleas and Appellate Courts, the United States District Courts, the United States Tax Court and the United States Court of Claims.
The tax attorneys at Kreder Brooks Hailstone assist clients in making sound decisions during:
Kreder Brooks Hailstone, in its capacity as counsel for municipalities and other public entities, also advises them on issues related to taxation.
Find out about our business tax planning services.
Contact a Wilkes-Barre Tax Law Lawyer
The tax attorneys at Kreder Brooks Hailstone provide a broad range of legal services to businesses and individuals in Scranton, Wilkes-Barre, Stroudsburg, Honesdale, Milford, Tunkhannock, Carbondale, Hazelton and other communities throughout Northeastern Pennsylvania. If you would like to speak with a Scranton tax planning lawyer, or if you have any questions about our firm or our services, please contact a tax law lawyer.