Mediation and Arbitration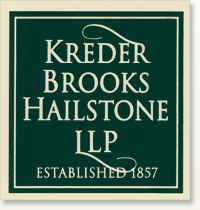 Scranton Mediation Lawyer
Mediation and arbitration are forms of Alternative Dispute Resolution (ADR), and can be used to settle a range of civil disputes: contract disputes, business disputes, land use and zoning disputes, and more. Individuals who wish to avoid the cost and time associated with traditional litigation should consider mediation or arbitration as a means of settling a dispute. Kreder Brooks Hailstone offers services in both.
To find out more about the benefits of mediation and arbitration, contact a Scranton mediation attorney today.
Mediation
In mediation, a third-party neutral mediator guides disputing parties in settling their legal matter. Each individual party is represented by an attorney while the mediator works to facilitate a mutually agreeable solution to the legal matter at hand.
Attorney Lucille Marsh of Kreder Brooks Hailstone offers full service as an independent mediator. She is well-respected by attorneys throughout Northeast Pennsylvania for her work as a mediator. Call our law office to learn more about our mediation services.
Arbitration
In arbitration, evidence is presented to an arbitrator or panel of arbitrators who will make a judgment on the case. The process is similar to litigation, except that an arbitrator (or panel of arbitrators) renders a decision instead of a judge. The decision can be binding and enforceable in a court of law.
Arbitration tends to be less formal and less time-consuming than litigation. Disputing parties may have to wait months to enter into the court system. Arbitration can often be commenced sooner and tends to be a quicker process with a more prompt resolution.
We provide experienced attorney representation in arbitration proceedings before the American Arbitration Association and other arbitration panels in Northeastern Pennsylvania. We have significant experience representing clients in construction disputes, business/contract disputes, and related matters.
When a dispute cannot be settled in mediation or arbitration, our firm provides aggressive advocacy in court. Find out more about our civil and business litigation services.
Are you interested in learning more about the benefits of mediation and arbitration? Contact an arbitration attorney for commercial litigation representation in Scranton, Wilkes-Barre, Stroudsburg, Honesdale, Milford, Tunkhannock, Carbondale, Hazelton and other communities throughout Northeastern Pennsylvania.