Civil and Business Litigation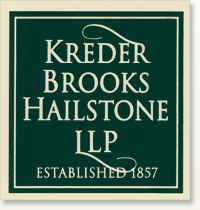 Pennsylvania Commercial Litigation Attorneys

From its offices in Scranton, Pennsylvania, Kreder Brooks Hailstone LLP has a tradition of helping its clients resolve disputes in a timely and economic manner, whether in alternative dispute resolution forums such as mediation or arbitration, or in litigation in the state and federal courts of Pennsylvania. Our litigation attorneys are prepared to provide aggressive representation and will approach your case with the experience, integrity and innovation necessary to reach a successful conclusion.
We are committed to providing the highest quality and most professional service, and to keeping our clients fully informed of the status of their cases at all times. Our clients, plaintiffs and defendants, include insurance companies, corporations, financial institutions, developers, municipalities, health-care providers and individuals.
We handle a wide range of civil and regulatory matters, including those involving:
commercial litigation, including cases involving business dissolution, contract disputes and shareholder disputes
insurance defense against a full range of claims
insurance subrogation
administrative law, including zoning and land use applications
non-profit and exempt organizations
negligence claims
personal injury claims
Workers' Compensation
The litigation attorneys at Kreder Brooks Hailstone provide a broad range of legal services to businesses and individuals in Scranton, Wilkes-Barre, Stroudsburg, Honesdale, Milford, Tunkhannock, Carbondale, Hazelton and other communities throughout Northeastern Pennsylvania. If you would like to speak with one of our litigation attorneys, or if you have any questions about our firm or our services, please contact our office.