Estate Planning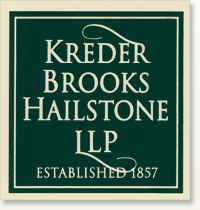 Scranton Estate Planning Lawyers
The law firm of Kreder Brooks Hailstone LLP represents individuals, owners of closely held companies, corporations, and executives throughout Northeastern Pennsylvania in business and estate planning matters. We work to ensure smooth transitions in leadership and minimize unnecessary losses to taxation.
Our estate planning attorneys apply extensive expertise and innovative strategies on behalf of clients in estate planning matters. It is our goal to assure that your estate passes to your heirs as you desire while minimizing the impact of federal and state estate and inheritance taxes on your assets.
Estate Planning and Probate Services
Attorneys in our business law practice work closely with attorneys in our estate planning practice to develop strong and effective solutions for companies and business owners in the following areas:
Preparing estate planning documents, including wills, living wills, durable powers of attorney for health care, health care proxies, and limited powers of attorney
Structuring of revocable and irrevocable trusts, including special needs trusts, supplemental needs trusts for those who require long-term care, life insurance trusts and charitable remainder trusts
Probate, estate and trust administration
Probate litigation and appeals at all levels of state and federal courts
Transition planning for business, buy-sell agreements and life insurance counseling
Plans for charitable gifting, family gifting and family foundations
Preparing pre-nuptial and post-nuptial agreements
The estate planning attorneys at Kreder Brooks Hailstone provide a broad range of legal services to clients in Scranton, Wilkes-Barre, Stroudsburg, Honesdale, Milford, Tunkhannock, Carbondale, Hazelton and other communities throughout Northeastern Pennsylvania. If you would like to speak with one of our elder law and estate planning attorneys, or if you have any questions about our firm or our services, please contact a wills and trusts attorney.