Business and Corporate Law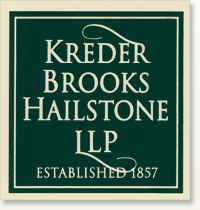 Scranton Business Law Lawyers
Kreder Brooks Hailstone LLP provides corporations, partnerships, limited liability companies and other enterprises operating in Northeastern Pennsylvania with a full range of legal services necessary to facilitate smooth and profitable business operations, including the following:
Entity Formation, Reorganization and Transition Planning
For many companies, long-term success and profitability often depends on early decisions that reduce tax liability for the company and personal liability for partners, shareholders or members in the firm, "Subchapter S" corporation or limited liability company, and set the stage for a smooth transition in the event of a dissolution or change in ownership.
Business and Commercial Transactions
Our attorneys have extensive experience in all services related to sales, mergers and acquisitions and other transactional matters, including contract negotiations, document preparation and identification of sources of financing.
Employment Matters
Lawyers at Kreder Brooks Hailstone advise businesses on matters including employment contracts, Workers' Compensation, regulatory compliance, severance agreements, non-compete contracts and employee handbooks.
Litigation and Administrative Law
Our attorneys are skilled negotiators and litigators and help clients resolve disputes effectively and efficiently through mediation, arbitration, litigation and appeals at all levels of state and federal courts. We also provide counsel in administrative applications, hearings and appeals.
The business and corporate law attorneys at Kreder Brooks Hailstone provide a broad range of legal services to businesses in Scranton, Wilkes-Barre, Stroudsburg, Honesdale, Milford, Tunkhannock, Carbondale, Hazelton and other communities throughout Northeastern Pennsylvania. If you would like to speak with one of our business and corporate law attorneys, or if you have any questions about our firm or our services, please contact our office.