Insurance Law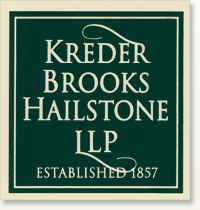 Scranton Insurance Defense Attorneys

At Kreder Brooks Hailstone LLP in Scranton, Pennsylvania, insurance lawyers provide insurance companies, insured parties, and self-insured businesses with sophisticated legal representation in connection with a full range of insurance matters. Our attorneys have the skill and experience, the support of a dedicated staff, the technology resources, and the relationships with top experts necessary to provide our clients with the representation necessary to respond effectively to claims involving allegations of medical malpractice, professional malpractice, personal injury, Workers' Compensation, employment law violations, insurance bad faith and real estate title defects.
We also handle a variety of other insurance law matters, including subrogation and coverage issues. We are committed to resolving disputes for our clients in the most efficient and beneficial manner, whether that is through negotiation, mediation, arbitration, litigation, or in appellate court.
The insurance law attorneys at Kreder Brooks Hailstone provide a broad range of legal services to businesses and individuals in Scranton, Wilkes-Barre, Stroudsburg, Honesdale, Milford, Tunkhannock, Carbondale, Hazelton and other communities throughout Northeastern Pennsylvania. If you would like to discuss an insurance matter with one of our insurance law attorneys, or if you have any questions about our firm or our services, please contact our office.