Real Estate and Title Insurance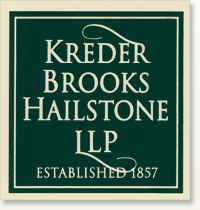 Scranton Real Estate Lawyers
At Kreder Brooks Hailstone LLP in Scranton, our real estate attorneys provide businesses and individuals involved in property transactions and development projects throughout Northeastern Pennsylvania with a full range of legal services. Whether our client is a developer, lending institution, real estate workout specialist, seller, or home-buyer, our objective is the same: to close the transaction promptly while protecting our client's interests.
Our real estate lawyers work closely with each client to negotiate and prepare sale contracts, deeds, leases, option agreements, construction contracts and loan documents. We also represent both individuals and businesses in real estate tax assessment appeals.
Through our affiliated title insurance company, Kreder Brooks Hailstone provides title insurance for Northeastern Pennsylvania residential and commercial properties. Our title attorneys have years of experience and are well-prepared to accurately assess the most complex titles. When title defects or issues are present we provide practical solutions and resolve the problem in a prompt and cost-effective manner.
The real estate attorneys at Kreder Brooks Hailstone provide a broad range of legal services to businesses and individuals in Scranton, Wilkes-Barre, Stroudsburg, Honesdale, Milford, Tunkhannock, Carbondale, Hazelton and other communities throughout Northeastern Pennsylvania. If you would like to speak with one of our real estate attorneys, or if you have any questions about our firm or our services, please contact our office.