Assisted Living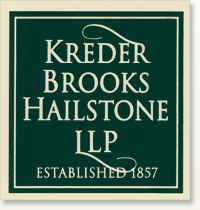 Scranton Assisted Living Planning Attorney
If you are planning for the care of an elderly parent, or if you are planning for your own assisted living needs, there are many things to consider. Long-term care planning requires careful financial and tax planning, as well as choosing the best long-term care facility.
Kreder Brooks Hailstone LLP, takes a multi-faceted approach to helping clients with long-term care planning. We understand how numerous components come into play when making important decisions about long-term care. To find out more about our legal services, including both elder law and estate planning, contact a Scranton assisted living planning lawyer today.
Assisting Clients With Long-Term Care Planning
Across the United States, the cost of long-term care is rising. The financial aspect of long-term care planning is stressful enough, without considering the other ways in which individuals and families are affected. Kreder Brooks Hailstone LLP assists clients with the following as they relate to long-term care planning:
Elder law — We assist clients with Medicare/Medicaid planning, long-term illness or disability planning, and related legal matters affecting older adults and those entering into an assisted living facility.
Estate planning — We also assist clients in obtaining the protections they need through effective estate planning, including wills, trusts, durable powers of attorney, health care proxies, and business succession planning.
Our assisting living planning attorneys always consider the unique needs, goals, financial circumstances, and health care needs of each client when assisting with long-term care planning. We are very familiar with the Pennsylvania-specific laws that apply in long-term care planning, and can convey that information to clients in a clear and informative manner. Whether you need advice on choosing an appropriate nursing home or care facility, or need assistance negotiating an admission agreement with a specific nursing home, we can help.
For more information about long-term health care planning for your parents, yourself, or someone close to you, contact an elder law lawyer from our firm. We represent clients in Scranton, Wilkes-Barre, Stroudsburg, Honesdale, Milford, Tunkhannock, Carbondale, Hazelton and other communities throughout Northeastern Pennsylvania.