Banking and Finance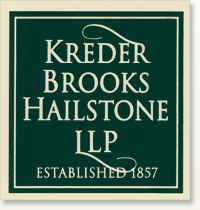 Scranton Banking and Finance Attorneys

Regulatory Compliance • Transactions • Litigation
Kreder Brooks Hailstone LLP provides the sophisticated legal services that are necessary to protect the interests of participants in the dynamic environment of contemporary banking and finance. Our Scranton, Pennsylvania, firm serves as counsel to several regional and local banking institutions, providing assistance with a full range of legal issues from structuring and documenting sophisticated commercial loan transactions to defending "lender liability claims".
In addition, the banking and finance attorneys at Kreder Brooks Hailstone represent municipal authorities and other agencies throughout Northeastern Pennsylvania in securing financing for industrial and economic development projects.
Our services include:
complex commercial loan documentation
residential loan documentation
letters of credit
real estate and construction financing
tax free financing through municipal authorities
regulatory applications and appeals at federal and state courts in Pennsylvania
creditor protection in bankruptcy, loan work-outs, collections, and foreclosures
defense of lenders against lender liability claims
The banking and finance attorneys at Kreder Brooks Hailstone provide a broad range of legal services to financial institutions, businesses and individuals in Scranton, Wilkes-Barre, Stroudsburg, Honesdale, Milford, Tunkhannock, Carbondale, Hazelton and other communities throughout Northeastern Pennsylvania. If you would like to speak with one of our banking and finance attorneys, or if you have any questions about our firm or our services, please contact our office.