Firm Overview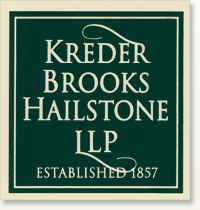 Pennsylvania Trial Lawyers
At Kreder Brooks Hailstone LLP in Scranton, Pennsylvania, our practice is focused primarily on providing individuals, municipalities, partnerships, limited liability companies, non-profit organizations, corporations and other business entities with representation in all aspects of business and corporate law. This concentration of expertise allows our lawyers to address complex issues such as economic development, environmental law, municipal law, finance, taxation, real estate and other transactional and regulatory matters in a comprehensive, timely and economic manner.
The business and commercial practice at Kreder Brooks Hailstone is supported, when necessary, by a strong team of experienced litigation attorneys. In addition, our attorneys assist clients with a variety of personal matters, including estate planning.
Individually, and as a firm, the attorneys at Kreder Brooks Hailstone are noted for their experience, integrity and innovation. In addition, our lawyers serve as volunteers and as members of various professional, community, charitable and other civic and public-service organizations throughout Northeastern Pennsylvania. We are proud of our reputation and of our commitment to the communities in which we live and practice law.
The attorneys at Kreder Brooks Hailstone provide a broad range of legal services to businesses and individuals in Scranton, Wilkes-Barre, Stroudsburg, Honesdale, Milford, Tunkhannock, Carbondale, Hazelton and other communities throughout Northeastern Pennsylvania. If you would like to speak with a member of our firm, please contact our office.