Kreder Brooks Hailstone LLP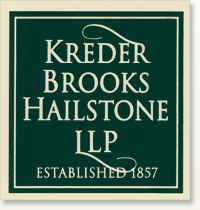 Scranton Business and Litigation Attorneys
Kreder Brooks Hailstone LLP is a full-service law firm dedicated to providing the highest quality legal services to individuals, businesses, financial institutions, non-profit organizations and municipalities throughout Northeastern Pennsylvania.
We draw upon a proud legal tradition which began in 1857 when Judge Edward N. Willard established a law practice in Scranton. Since that time, our firm's approach to the practice of law has earned us the respect of our clients, our community and other legal professionals.
Our firm's reputation for providing high-quality representation in business litigation, tax law, estate planning, banking, economic development, and other areas is based not only on that tradition, but on the individual expertise of our attorneys and on our ability to constantly provide creative and innovative ways for our clients to achieve their goals.
Learn more about Kreder Brooks Hailstone LLP:
Experience, Integrity and Innovation: These are the cornerstones upon which we have built our legal practice -- principles which have kept us at the forefront of the legal community for more than 150 years and which inspire and enable us to continue to provide unparalleled legal services to our clients.
We provide a broad range of legal services to businesses and individuals in Scranton, Wilkes-Barre, Stroudsburg, Honesdale, Milford, Tunkhannock, Carbondale, Hazelton and other communities throughout Northeastern Pennsylvania. Contact a Scranton business litigation lawyer today.